HOW TO USE
Posted by wufeng on
  HOW TO SET UP SUPERBOX S3 PRO https://www.youtube.com/watch?v=AJJzg2x9qFU    
Posted by wufeng on
If your remote can't boot up the Monsterbox X1 Max, you can follow this guide to update your X1 Max to fix the problem. Step 1: Go to App Store - App Store - and install the Filelinked app first. After installation, open the Filelinked, enter code: 22353105 to enter Monsterbox App Centre;   Step2:Click on the "Remote Power On Solution_Monsterbox_X1MAX_20210602_V1.0.3" and start download, it may take 5 minutes to download the same.   Step3: Back to Home Page, go to Apps, and select System Update. Click Local update, then Select file. Click Local Memory, Download, Filelinked, and select the "Remote Power On Solution_Monsterbox_X1MAX_20210602_V1.0.3" file....
Posted by wufeng on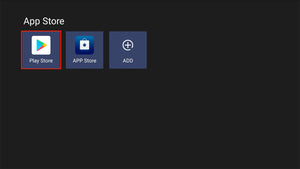 Yes, definitely, you can install all the apps you want on Monsterbox, just like normal TV Box or Firestick. You can browse and install the apps you want on Play Store by Google.  Moreover, if you cannot find the apps you want, you can contact our customer support, we have the Filelinked app pre-installed on Monsterbox. We will upload your wanted apps on Filelinked and you can download them there. Our Filelinked code is 22353105. You can go to Main Page - App Store - App Store to locate the Filelinked app. So far we have the following app with our...
Posted by wufeng on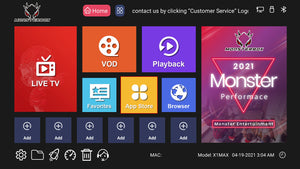 Step 1.1: Connect the Power and HDMI cable to your Monsterbox. Insert two AAA batteries into your remote (batteries are not included in the Package due to shipping safety reason). Step 1.2: It takes 30 seconds to 1 minute for initial running. Then you will reach the Disclaimer Notice Screen. Check Agree to next step. Step 1.3: Adjust the screen ratio by Up Arrow / Down Arrow of the Remote. Click "Next" after you optimized the screen ratio. Step 1.4: If you want to connect network by Wifi, you can select your Wifi spot, enter your Wifi password and click...